Montreal Steak Spice is a dry spice rub used to flavor steak that was made famous in Montreal and has become a marketing term for a number of commercial spice mixes. The recipe varies, but Montreal Steak Spice usually includes ingredients such as pepper, salt, coriander, dill, mustard seeds, dehydrated garlic and onions, red pepper flakes, rosemary, thyme, paprika and caraway seeds.
There is a history behind this famous Canadian named spice. A cook named Morris "The Shadow" Sherman worked at a deli called Schwartz's Smoked Meat a couple of decades ago.  He was good on the grill and was getting tired of just using salt and pepper when making steak.  He decided to take the restaurants smoked meat spice and sprinkled it on the steak.  The rest is history, people flock to this store still to this day to but the original Montreal Steak Spice blend.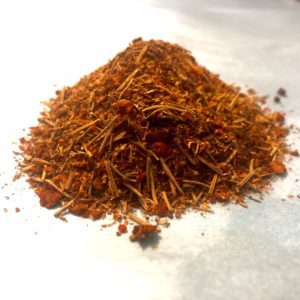 This is not just a dry rub for steak, altho it lightens the meat up to a flavor that no wonder it is bottled and sold everywhere.  This seasoning can be added to chicken, pork, seafood, kebabs, and any grilled veggies to give it that amazing flavor. It lifts the flavors of the food so delightfully that you will be coming back for more. It can also be mixed in with oil and soy sauce for a delicious marinade. Make sure to let it sit and soak up all the flavors for at least 30 minutes.  This would continue to add its zesty flavors but give it an extra kick for flavor.
Everyone has a slight variation of this recipe. But you will not be disappointed with our blend.  It is good to know that ours is always fresh and ground right you order it.  We take pride in our blends and hope to hear how much you enjoy them.  
See other spice blends here.