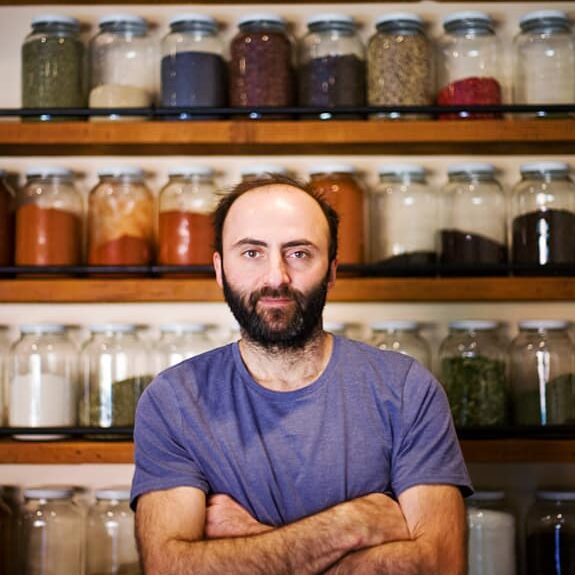 Peter Bahlawanian
Owner & Founder
Many people live their lives without ever discovering something they are truly passionate about, let alone turning that passion into a lucrative business while enriching the lives of others. Owner and founder of the Spice Station enterprise, happens to be one of the lucky ones who has achieved this admirable feat. As an entertainment producer, amateur cook, and lover of all things flavorful, Peter began his Spice Station journey simply by fulfilling the need for a comprehensive spice supplier in the Los Angeles neighborhood of Silver Lake. After the quiet opening of his new emporium in December 2009, Peter's love for the spice world quickly began to attract attention from local chefs, foodies, and the casual passerby. 
By offering a wide variety of international herbs, spices, and 300+ blends (mixed by Peter himself), Spice Station soon became known as the "go to" place for new and exciting culinary seasonings. In short time, the unassuming spice store began to gain attention from notable resources like Food & Wine Magazine, The New York Times and The Wall Street Journal. Another notable name among foodies and a frequent visitor to the Spice Station store was American food critic Jonathan Gold, who featured the spice emporium often on his coveted "Gold List." Now acclaimed by chefs both near and far for his extensive selection of hard-to-find items, Peter's passion for exotic flavors and aromas has since propelled him to become an authority in the spice arena. 
Today, Spice Station has closed its retail stores to focus on global wholesale supply instead–but without losing its approachable "mom and pop" identity. Excited as ever to discuss new imports and discoveries with his clients, Peter eagerly provides his expertise of flavor profiles along with top notch customer service. Ever the constant researcher, and now with a particular interest in the holistic health benefits of the herbs and spices he sells, Peter encourages other amateur chefs to think outside the box when it comes to trying new things in the kitchen. Still serving up inspiration and the very best quality spices at competitive rates, Spice Station remains a reliable one-stop-shop for all. 
Written for Spice Station Silverlake by: Amanda Csolak When most people think of Thanksgiving, they think about turkey. But for vegetarians, it isn't about…